Bridesmaids Dresses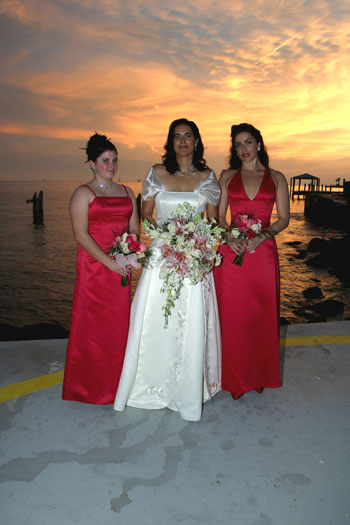 Photo © Roy Katalan
After you have selected your wedding gown, you will need to turn your attention to the women in your bridal party. The dresses your attendants wear should compliment your gown and should fit with the overall theme of the wedding. The color of the dresses should coordinate with the color scheme for the entire day.
Bridal salons offer a variety of colors, styles and sizes. You will also find that your bridesmaids can purchase undergarments, shoes and accessories all at the same place. If you are having a hard time finding the perfect dress that all of your attendants agree on, you may consider having a tailor make one. This option is not as expensive as it may seem and the result is a one-of-a-kind dress that is made just for your attendants.
When you are looking for bridesmaids' dresses, it is usually a good idea to bring a couple of your attendants with you. It's important to select a gown you can all agree on because they will probably be purchasing their own dresses. When selecting dress styles, consider the height, weight and hair color of the women in your wedding. It is important to choose a dress that will flatter each woman's shape.
The dresses don't have to be the same color or style. Just as all of your attendants are different, their dresses can be too. Some brides simply tell their bridesmaids to select a black dress that is knee-length. Other brides choose the style of the dress and let the attendants choose coordinating colors. This is your wedding and you can make it as contemporary or traditional as you want.
Once the dresses are selected, make sure each member of the bridal party is measured and fitted. They should order their dresses about six months before the wedding. This leaves time for any alterations to be made after the dresses arrive in the store.
Make sure each bridesmaid is comfortable in her dress and shoes. After all, they will be wearing those dresses for an entire day. Also, make sure any jewelry that is worn is small and appropriate.
The Bride's Attendants Worksheet from the Creative Wedding Planner!