Formal Wear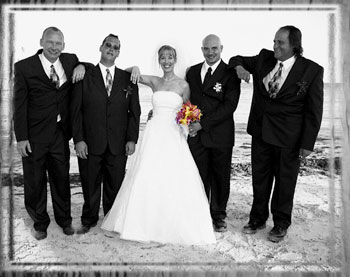 Photo © Roy Katalan
Every man in your wedding party is sure to look his best in a nice suit or tuxedo. Your groom can take the lead in this aspect of wedding planning with little or no assistance from his bride-to-be. So if you're stressed out by all of the things that need to be done for the wedding, let your fiancé make that trip to the formal wear store. It's almost impossible to pick out a bad tuxedo.
Regardless of who is selecting the attire, be sure to select a reputable store with associates who are willing to help you choose from the wide variety of choices. The formal wear specialist should also be able to choose an appropriate style for the type of wedding you are planning. Keep in mind the colors you have chosen for the bridal attendants and your overall wedding colors when looking at tuxedos. The men in the wedding should compliment the overall look of the wedding and the female attendants.
You will have to choose between a vest and a cummerbund when selecting a tuxedo. Many couples coordinate the cummerbund color with that of the bridal attendants' attire. It is helpful to bring a sample swatch of the bridesmaid dresses to coordinate colors. Many men are unfamiliar with wearing cummerbunds and end up wearing them incorrectly. Be sure to wear it so the pleats open toward the top. Ask your formal wear specialist if you still have questions.
Be sure to visit the formal wear store at least six weeks before your wedding. Try to get some ideas of what you are looking for before you enter the store so you aren't overwhelmed by your choices. Do you want a vest or cummerbund? Do you want a suit or a traditional tuxedo? Are you going to go with white or black? Bridal magazines and the Internet are great preliminary resources.
Make sure your suit or tuxedo fits well before you leave the store. Try it on before you take it home and the formal wear specialist will make sure you look like a million bucks. When your bride sees you, she may be surprised how good you look!

The Men's Attire Worksheet from the Creative Wedding Planner!


To view PDFs you need Acrobat Reader.
If you do not have Acrobat Reader you can download it FREE if you click here!