Gown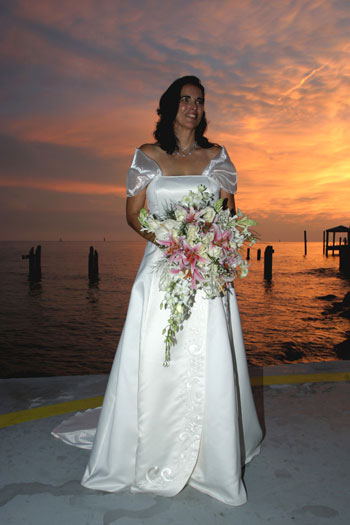 Photo © Roy Katalan
Many women have dreamed of their wedding day since their childhood. A big part of that dream is what you will be wearing as you walk down the aisle. Will it be a traditional flowing gown? Or will you chose a modern, strapless sheath? The choices are seemingly endless so start looking soon.
You may want to begin your search by browsing through magazines and on the Internet. Through this research, you can get an idea of what styles you like and others you may want to avoid. The next step is to grab a couple of friends and hit the local bridal boutiques. Try on a variety of dresses to see which styles best flatter your figure and fit into your budget. While you're looking, keep in mind that you will need a headpiece and veil, undergarments, shoes and accessories to complete the ensemble.
You have many different options to look at when selecting a gown. Some stores sell ready-made gowns that you can purchase right off the rack in your regular dress size. These dresses are often bought in large quantities in a variety of sizes. Purchasing a dress off the rack can mean substantial savings, though some alterations may be necessary. Another way to save money on a dress is to buy one used. There are stores that sell previously worn wedding dresses (and they have only been worn once). You can also find gowns in the classified ads of the newspaper.
Custom-made dresses are another option. Sample gowns are available to try on at bridal boutiques but your dress will be made for you according to your measurements. Yet another option is to have your dress custom-made by a tailor. If you can't find the perfect dress in any store, this may be a great option to pursue. You may be interested in wearing your mother's wedding gown. Restoration services can help you restore the dress to its original beauty.
No matter what kind of dress you are looking for, remember to start shopping early. Wedding planners recommend that brides start looking for dresses six months before their wedding date. You will need several fittings and your dress may require alterations.
Remember to count on the experts to help you in your search for the perfect dress. Wedding consultants and bridal clerks can help you make choices when it comes to fabrics, styles and colors. They can also assist you in choosing a gown that suits your weight, height, body shape and the type of wedding you are planning.
Wedding professionals can also help you select a veil and headpiece that compliment your gown. The colors should match perfectly. You should also take into account your hairstyle, height, the shape of your face and comfort. The type of headpiece you select also depends upon the formality of the wedding. A wreath of flowers on your head may be great for an informal wedding but a traditional headpiece with a long veil may better suit a traditional wedding.
Remember to have a good time in selecting your gown. This is your wedding that you are planning and it should be an enjoyable experience. Don't stress out if you don't find anything on your first trip. Keep looking and trying on different styles until you find one that strikes you. Take your time and you are sure to find the perfect gown for your special day.
The Bride's Attire Worksheet from Creative Wedding Planner!


To view PDFs you need Acrobat Reader.
If you do not have Acrobat Reader you can download it FREE if you click here!