Gown Preservation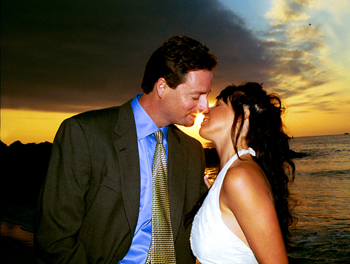 Photo © Roy Katalan
You will probably spend hundreds or even thousands of dollars on your wedding gown. You will spend hours selecting the right one and even more money to get it tailored to fit you perfectly. When the wedding is over, you may hand your wedding dress off to a friend or family member and head off on your honeymoon. But before your dress is ruined in a dank basement or moth-infested closet, take precautions to preserve your wedding dress so it looks as perfect 20 years from now as it did the day you were married.
Several weeks before your wedding, talk to one of your closest friends or relatives who is trustworthy and responsible. Make arrangements for them to have your dress cleaned and preserved the day after the wedding. Although you may not think your gown got dirty at your wedding reception, you may be surprised. It is very likely that in the rush of the celebration with all of the food and drink, hugging and dancing, your dress became soiled by champagne, frosting, salad dressing, wine or soda pop. But even if you were extremely careful, even the smallest amount of perspiration or body oil will show up later.
You may think it is too expensive or unnecessary to have your gown professionally cleaned and preserved, but the end result is well worth the cost. If you try to remove any stains on your own, you run the risk of ruining or permanently discoloring your gown. Professional dry cleaners have special solutions and chemicals to clean your dress without the risk of future damage.
After your gown is thoroughly cleaned, the dry cleaner will preserve it by placing it in an airtight box. These boxes are made specifically for preserving dresses for a long period of time. In 10 or 20 years when you want to show your dress to your daughter or your niece, the dress will look just as nice as it did the day you picked it out at the bridal salon. It may seem hard to believe right now, but your daughter may want to wear your gown for her wedding someday.