Honeymoon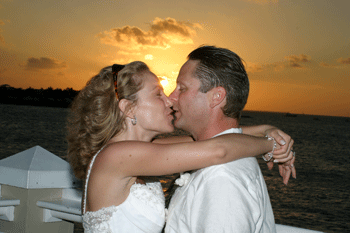 Photo © Roy Katalan
After the wedding, the real fun begins. After the months of planning and rehearsals, you deserve a wonderful vacation to celebrate your marriage. The honeymoon is a great way to relax and enjoy some time together as husband and wife. So where do you start? The answer is simple; you have to do your homework. Talk to your fiancé about ideas he has and come up with several destination dreams.
Do you want to go on a cruise?
What about an all-inclusive resort?
Do you want to go someplace warm and tropical?
Do you dream of sightseeing in a foreign country?
Are you partial to a big city for fine dining and great shopping?
Don't forget to discuss a budget for your trip. Once those things are decided, do some research on the Internet and in bridal magazines. You can get an idea of prices and popular destinations.
Your next step is to head to the travel agent. You should visit a travel agent about six months before your wedding so you can get the best rates on trips. Be sure to select a travel agent who is reputable and certified. (Agents who have CTC in their title are Certified Travel Counselors and have completed an 18-month course and have been in business for at least five years.) Talk to friends and family members about travel agents they have used and would recommend. Be sure you get along with the travel professional and that he or she listens attentively and tries to understand your desires and limitations.
If you're thinking of trying to book your honeymoon yourself, you may want to rethink your decision. Engaged women have a lot of planning to do for the wedding and reception and planning a large trip is sure to be another stressful endeavor. Travel agents can help ease that burden while saving you money. They can offer you inside information on discounts that are not widely advertised, the benefit of their travel experiences, package deals and a range of itinerary choices and one-stop shopping for hotel, air and car reservations. But the most important thing your travel professional can provide is peace of mind. When you book a vacation with a reputable travel agent, you can rest assured that you will have a wonderful trip.
Tell them up front about your budget and be firm about it. Don't let them talk you into a trip you will not be able to afford. Also, discuss your ideas about where you want to go, but be flexible. They may have a great idea that you have never considered. Because travel agents have traveled all over the world, they know about places that the average person has never even heard of.
Don't be afraid to ask questions. Make sure you are comfortable with the arrangements at least a week before the wedding. Try to make any final arrangements with the travel agent at least two weeks before the wedding. If you have any questions, don't hesitate to call and ask; they are working for you.
The most important aspect of your honeymoon is the trip itself. Relax and enjoy it.