Insurance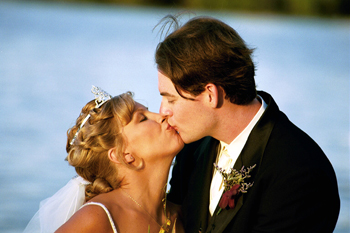 Photo © Roy Katalan
No matter how old you are when you get married, you will need to consider insurance coverage that will be changing or necessary with your changing circumstances. It's important to find an insurance agent that you trust and feel comfortable with. A good insurance agent will become a trusted advisor, someone who will help you make important decisions for years to come.
Wedding Insurance
The first matter you will probably want to discuss with your new insurance agent is wedding insurance. This type of insurance is usually purchased six to nine months before the wedding and protects your investment in wedding services from circumstances you cannot control. Wedding insurance helps to protect you against big-day financial losses that you never could have anticipated. This type of coverage is designed to protect your financial well being if your wedding must be cancelled or postponed for a variety of reasons.
Some examples of ways wedding insurance may be beneficial include:
" The reception site is badly damaged by a fire just a few weeks before your wedding. Your insurance would reimburse you for your expenses in changing the venue or rescheduling the day entirely.
" If your photographer is a no-show, your coverage would allow you to hire a new professional photographer for triple the price because of the last-minute notice or reshoot the photographs on a different day.
" Your wishing well, containing thousands of dollars in cash and checks, is stolen from your gift table. Though a police report must be filed, your insurance will reimburse you for the amount that was stolen.
These are just a couple scenarios and there are hundreds of things that could potentially go wrong on your wedding day. (Though most weddings go off without any major incidents.)
A basic wedding insurance policy will cost between $150 and $350 and will cover loss of deposits, rings, gifts, attire, videos and photos. Be sure to talk to your insurance agent about the coverage that will be right for you.
Other types of insurance
You will also want to discuss other types of insurance you need with your insurance agent. It is important to review your auto insurance once you are married. By combining you two policies into one, you can save some money. You also need to consider your medical coverage. Once you are married, you can easily be added to your husband's plan. However, have your insurance agent look over both of you and your husband's policies to determine who has the best coverage. Your husband may consider joining your plan if it makes better sense. You may also want to take out life insurance policies as well as coverage on your house or apartment.
Insurance is an important way to protect yourself now and in the future. Don't put off that meeting with your insurance agent. It is best to make those decisions as soon as possible to avoid any unexpected loss or damage in the future.