Rehearsal Dinner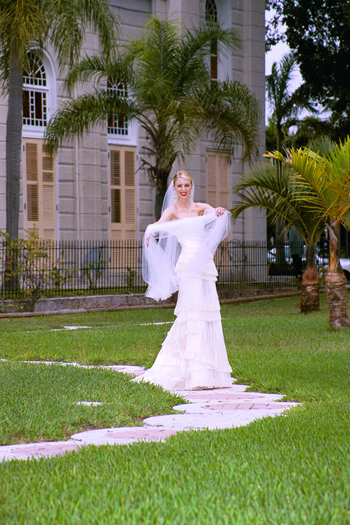 Photo © Roy Katalan
After months of planning and a meticulous overview of all of the events surrounding your wedding, you may be ready to relax and enjoy a good meal surrounded by all of your favorite people. That's where the rehearsal dinner fits into your wedding plans. The dinner is essentially a small party held after the rehearsal, the night before the wedding.
The ceremony rehearsal is held at the site where the actual ceremony will take place the next day. The priest, reverend or officiant will run the rehearsal, which should be a brief run-through of where the members of the wedding party should stand and sit during the ceremony. It is helpful for the bride and groom to get a feel for what will be going on during the ceremony.
After the rehearsal, everyone involved in the wedding should be included in a small party or get-together. This gathering can be held at any of the following places:
The church or ceremony site
A restaurant
A hotel
A country club
Someone's home
Be sure to decide on a site for the rehearsal dinner about four months before your wedding day. Many restaurants, clubs, hotels and churches have rooms that they rent for such special occasions, but they may be booked months in advance. If you and your fiancée have a special restaurant you really like, you may want to inquire if they cater to private parties.
When you are booking a site, find out if you have to rent the room or if it is included with the price of the food. Also inquire about the menu. Will the full menu be offered to your guests or just a small sampling of items? Also, find out if beverages are included in the prices or if they cost extra. Remember that you will be responsible for paying for the guests' meals (unless you parents or your fiancé's parents have agreed to pick up the tab).
The rehearsal dinner is a great time to be able to thank the people in your wedding party. It is customary to give each one of them a gift at this dinner. You may also want to just relax and enjoy the meal because your wedding day may be somewhat stressful and fast-paced.
Be sure to make it a party that ends early if the wedding is the next day. You will want to get plenty of rest before your big day.

The Rehearsal Dinner Worksheet from the Creative Wedding Planner!


To view PDFs you need Acrobat Reader.
If you do not have Acrobat Reader you can download it FREE if you click here!
Contact International Park about having your Wedding on the Boyer
Contact Ultimate Pig Roast Now
Contact Heather Downs County Club Now