Rentals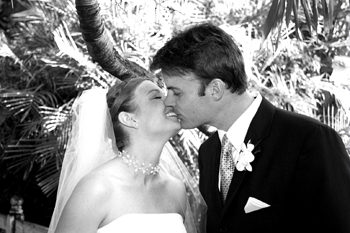 Photo © Roy Katalan
After you have booked a reception site, you may want to talk with the resident party planner or site manager to determine what is provided and what you may need to rent. Even if the facility provides chairs, tables, silverware, dishes and table linens, you may want to consult a rental facility. You may be able to rent higher quality merchandise for surprisingly low prices.
Most rental agencies have a lot of experience with weddings and can provide almost anything you may need to make your reception a success. If you are looking for a wishing well that guests can use to deposit cards, you will probably find it at your nearest rental agency. They may also provide you with centerpiece arrangements that will add beauty and color to your tables.
If you are having an outdoor wedding or reception, you may need to rent many items to make your celebration a success. Some equipment you may want to rent includes:
Tents and canopies
Chairs
Tables
Linens
Fountains
Dance floors
Portable bars
Arches
Aisle runners
Flatware
Glassware
Chafing dishes

Be sure the rental agency will deliver the merchandise, set it up and take it down and return it.
Visit the rental company six months before your wedding to reserve what you need and to make sure the facility offers everything you may need. Make sure you go over your rental agreement with your salesperson, paying attention to delivery times and prices. Don't forget to find out if there is a charge for a cancellation or a change in your order.