Videographers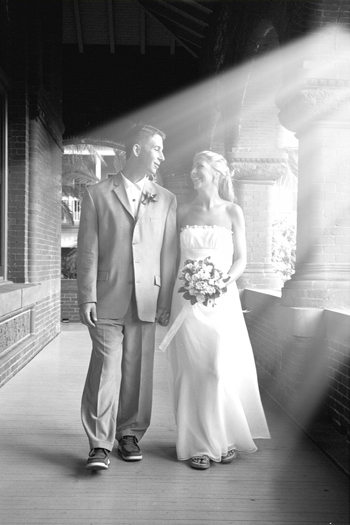 Photo © Roy Katalan
Gladiatorbarr Film/Video Productions - The Best in Digital Video for Weddings, Commercials, Movies etc.
Jeff Mark Barr - President, Director, Writer
Visit Gladiatorbarr Film/Video Production's web site now!
Videographers
You have spent months planning your wedding and spent hours and hours ensuring your special day is the dream you have always imagined. You want to remember the day for years to come, not just in your memories and in pictures, but also on videotape. Through the use of videotape, you can share every aspect of your wedding day with family and friends for years to come. You can even share the tape with your children and grandchildren 10 or 25 years from now.
Some brides rely on family members to videotape their wedding and reception. But this can be a big mistake if the person is inexperienced or using home video equipment. Because your wedding only takes place on one day, you want nothing less than the best from your video. You don't want to have to worry that Uncle Bob may have left the lens cap on or if your cousin Todd brought extra batteries. There are no do-overs or second chances to tape the event again.
You should start looking for a reputable, professional videographer six to nine months before your wedding. Ask friends and family for ideas in choosing a good videographer. When you meet with a potential candidate, be sure to view his or her work. Ask questions so you know what you'll be getting and be sure you get along with the professional, he or she will be following you around for an entire day.
Before signing a contract, understand exactly what is included. Following is a list of questions you may want to ask:
What kind of equipment do you use?
Will we receive an edited or unedited version of our wedding or both?
Can we get additional copies for friends and family?
Can childhood pictures be added?
Will extra music or special effects be added?
Can I request special moments or people that I would like included?
Be sure to understand what you are paying for. Are you paying the videographer by the hour and an additional fee for the finished video? Are you paying for a complete package that includes their time and the video? Understand all of the terms upfront.
Remember to hire a videographer you can trust to produce a treasured keepsake of your wedding day. This will be the only thing you have that captures every smile, every tear, every dance and every special moment of your wedding day. It will capture the genuine emotions and feelings of family and friends as well as record the excitement and joy of the wedding celebration.
The Videotape Worksheet from the Creative Wedding Planner!


To view PDFs you need Acrobat Reader.
If you do not have Acrobat Reader you can download it FREE if you click here!