Weight Loss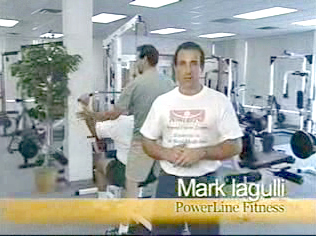 | | |
| --- | --- |
| VIEW VIDEO | Mark Iagulli - PowerLine Personal Fitness Trainers Inc. video |
Try the EMERGENCY FAT LOSS SYSTEM

For your wedding, you have bought the perfect dress, ordered the greatest flowers and found the best caterer. But how do you get your body into the best possible shape? They key is thinking and planning ahead. A crash diet a few weeks before your wedding day is only going to make you miserable and won't produce the desired results.
Planning a wedding can be extremely stressful and your wedding day will be similar to a marathon with a day filled with family, pictures, questions and scheduled activities. It is very important for you to be healthy at this time in your life. You should be in the best health you can be in order to ward off sickness prior to your honeymoon.
Start making plans for a healthier you about six to 12 months before your wedding. Joining a gym or health club is an excellent start. These facilities will have a variety of classes and equipment available to help you meet your goals. They may also have personal trainers, nutritionists and dieticians on staff to help you plan your course of action. Exercise at least five days a week for 20 minutes or more to get the best results. Find an activity that you like such as walking on a treadmill, taking a kickboxing class or jogging on a track, and stick with it. Don't weigh yourself everyday; the results will not be immediate. But if you are consistent with your workouts and start early, you are sure to lose weight and feel better about yourself.
Instead of thinking of your meal plan as a "diet," think of it as a new way of eating. Don't completely deprive yourself of everything you love just eat sensibly. Eat small portions and take more only if you're still hungry. Eating four or five small meals throughout the day is actually better for you than eating three big meals. Be sure to drink eight glasses or 64 ounces of water each day. Avoid drinking alcohol because it contains a lot of empty calories that you are trying to avoid. Also, try to fill up on fruits and vegetables so you're not hungry for fattening snacks. Keep some baby carrots on hand as well as apples, bananas, pears and peaches for quick and easy snacks.
Approach your weight loss sensibly and keep your expectations realistic. Make sure the people around you are supportive and will assist you in reaching your goals. By spending the months before your wedding getting into a healthy lifestyle, you are sure to begin your new life on the right foot.