Bachelorette Party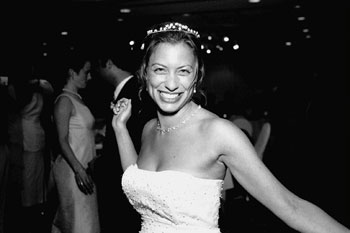 Photo © Roy Katalan
Many women who serve as the maid of honor in a wedding party have started to plan elaborate parties and weekend getaways to celebrate their friends' upcoming nuptials. The bachelorette party was originated in response to the lavish bachelor parties that men throw for soon-to-be grooms. However, bachelorette parties are now a completely separate occasion with a very different tone and feel.
The maid of honor plans the bachelorette party with the help of the bridesmaids. It should be held about a week before the wedding. When you are planning a bachelorette party, keep in mind the taste, attitude and style of the bride-to-be. If she says she doesn't want to visit a strip club, don't plan a trip there anyhow. If she's not a big drinker, don't plan an evening of pub-crawling. Also, be sensitive when it comes to the time and money involved. Each attendant will have to pay their own expenses and everyone should pitch in to pay for the bride's expenses. Don't make the party a financial burden or a big time commitment to anyone who can't afford it.
A popular bachelorette party idea is a limousine trip to popular nightclubs. By renting a limo, all of the guests can ride in one car and no one has to worry about driving. Drinking and driving is never a good idea and a limo eliminates the possibility that anyone could get behind the wheel who shouldn't be driving.
Parties at home, dinners, luncheons and teas are also popular ideas for bachelorette parties. If you are the planner, be sure to book the limousine, restaurant or caterer at least two months in advance. It is customary for some of the guests to give the bride gifts at this party. Gag gifts are sometimes funny but always think of what the bride's response will be before presenting such a gift. Teddies, lingerie and negligees are also popular gifts at bachelorette parties.
Another version of the bachelorette party that is gaining in popularity is the weekend getaway. Some popular places to go include Cleveland, Windsor, Las Vegas, Chicago and New York City. A lot of planning goes into a getaway such as this and you must take into account the time and financial commitment of each guest. Before planning such a trip, discuss it with the bride.
The most important aspect of the bachelorette party is that it's fun for everyone involved, especially the bride. No one should be made to feel uncomfortable or self-conscious. This is a girls-night-out for everyone to let loose and have a good time.

Contact Blackwell Law Firm Now
Contact Ultimate Pig Roast Now
Contact Heather Downs County Club Now