Hotels & Motels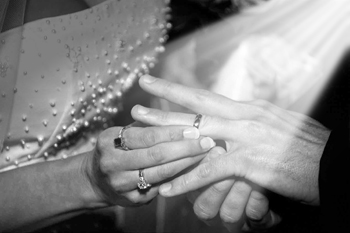 © 2005 Roy Katalan Photography

Chances are you have probably stayed in a hotel before. You may have also attended a banquet or wedding reception in one of the hotel's banquet facilities. You may find many different functions for a hotel as you plan the events surrounding your wedding day. Hotels can be used for a variety of purposes when it comes to wedding planning. They can be used to accommodate out-of-town guests and so much more.
If you are looking for a beautiful site for your ceremony, many hotels have places in their facilities that would be perfect for a wedding ceremony. Many fine hotels have party planners on staff who can help you coordinate the aspects of the wedding ceremony. Some hotels that are on the river or lake have rooms with breath-taking views that would provide a memorable place to exchange your vows.
Most nice hotels have banquet and catering services available, which make them ideal sites for wedding receptions. The location you choose for your reception should compliment the overall theme and tone you have set at the wedding ceremony. It should be held immediately following the wedding and in close proximity to the church or park where the ceremony was held. Find out exactly what services the facility offers before booking a hotel.
By having your reception at a hotel, you can ensure your guests don't drink and drive after the festivities. Many hotels will give guests a discount if they were attending a wedding reception in the facility. Many wedding couples even spend the night in the hotel and take off for their honeymoon the following morning.
Obviously, hotels are also the best place for out-of-town guests to stay while they are in town for your wedding festivities. About four months before your wedding, find out how many out-of-town guests you will be expecting. You may want to reserve a block of rooms for them at a hotel that is close to the ceremony and reception sites. Talk to the hotel manager about any volume discounts that may be offered.
Many hotels offer smaller meeting rooms that can be used for bridal showers, rehearsal dinners, bachelor or bachelorette parties. Using the same hotel for all of these functions helps to provide a uniform tone and style to your wedding. Be sure to find a hotel that is comfortable and welcoming. You should get to know the staff, especially the banquet coordinator