Entertainment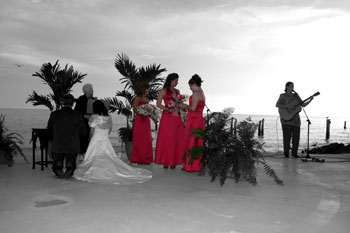 Photo © Roy Katalan
Ceremony music
The music that is played at your wedding ceremony helps to set the tone for the entire day. It can create a lovely mood, a romantic atmosphere or a happy ambiance. There are many types of musicians available for the wedding ceremony including:

Organists
Soloists
Harpists
Pianists
Classical guitarists
Small brass ensembles
Flutists
String quartets
Talk to your fiancé about what kind of music he would like for your ceremony. Talk to your friends and family about musicians they would recommend. Be sure the musicians you speak with are familiar with the type of ceremony you are planning. If you are having a Jewish ceremony or a Catholic mass, the musician should know when music is needed. Carefully check the credentials of the musicians before signing the contract. Ask for a CD, cassette or videotape featuring one of their performances so you can get a feel for their style.
Music should start about a half-hour before your ceremony begins. Processional music should be played as your attendants are entering. You may opt for the traditional "Wedding March" when you make your entrance with your father. You may have the musicians play several songs during the ceremony and an upbeat song for the recessional. Discuss music selections with your musicians about a month before your wedding. They may have some unique and innovative selection ideas that you have never thought of.
Remember, this is your wedding ceremony and you want it to be unique and special. If you have a favorite song that may be appropriate, talk to your musician about including it in the ceremony. Make the music at the ceremony a reflection of you as a couple and your love for one another. The music should compliment the joyous nature of the ceremony but shouldn't be too overbearing.
Disc Jockeys
A disc jockey serves as a master of ceremonies for your reception. He or she will set the tone, pace and mood for your big celebration so choose wisely.
It is important to start looking for a DJ about nine months before your wedding day. Ask friends and family for names of DJs they would recommend. It is important to see the disc jockey perform before you sign a contract so you can be sure he or she suits your tastes as well as the overall style of the wedding. The DJ may provide you with referrals or an audition tape. They may also invite you to view one of their upcoming performances.
Once you have hired a DJ, be sure to talk with them about the kind of music you would like played at your reception. Discuss special songs that you would like played for the first dance, the wedding party dance, cutting the cake and throwing the bouquet and garter. You may also want to talk with them about the type of music your friends and family would enjoy. Most disc jockeys will play a mix of romantic slow songs, traditional wedding hits and popular songs. Experienced DJs will adjust the music they are playing to the taste they perceive among the guests. For example, if lots of people crowd the dance floor during every hip-hop song, the DJ may go with the likes of the guests and play more hip-hop music.
Be sure to talk with your disc jockey about announcements you need him or her to make and about traditions you do or don't want included (for example: the dollar-dance, the chicken dance, the Macarena or the YMCA). Also, make sure you discuss how the entertainer will be dressed, if they will be eating and drinking at your reception and the frequency of their breaks.
Make sure there is enough room in the reception facility to accommodate the disc jockey's equipment. It is best if the DJ has previously performed at that facility but if he or she has not, they may want to visit just to make sure any lights or equipment will fit without a problem.
Make sure you like the demeanor and personality of your DJ. He or she will bring that personality to the party and it will help set the tone for your entire reception. A good DJ will make your reception more special to you and more memorable for your guests.

Musicians & Bands
A band or group of musicians can help to make your wedding reception special and unique. The type of musician you select will help set the tone for the entire reception. Musicians can also assist in making announcements and serving as master of ceremonies. There are many choices to consider when trying to determine what kind of musician to choose for your reception. Some of those choices include:
Complete band
String quartet
Jazz combo
Group of soloists
Harp and guitar duo
Pianist
Orchestra
Discuss your choices with your fiancé about nine to 12 months before your wedding. Remember to consider the tastes of your guests when you are selecting musicians. You want to make sure everyone (from the young to the more mature guest) has a good time. It is beneficial to choose musicians who specialize in wedding receptions and can be versatile in the selections they play. They should be able to play popular music, traditional wedding favorites and softer, romantic music.
You should be able to attend a performance or view the musicians on video before signing a contract. Make sure you talk with them about what their fee includes, how they will be dressed, how many hours they will perform, how many breaks they will be taking and if they will be eating and drinking at your reception. Be sure to discuss any songs you would like played so they have time to learn or practice them. Also, make sure you explain to your musicians what kind of announcements you need them to make (grand entrance, first dance, throwing the bouquet and garter and cutting the cake, for example).
It is helpful if your musicians may have already performed at your reception hall or facility. If they have not, they want to visit the site to be sure their equipment will fit in the space allotted for them. You may need to facilitate communication between the party planner and your musicians.
Live musicians can add a unique ambiance to any wedding reception. Just make sure you are hiring experienced musicians who are comfortable entertaining people of various ages in a wedding reception atmosphere. Chances are, your guests will have an enjoyable evening and will dance the night away to the sounds of your musicians.
The Music Selection Worksheet from the Creative Wedding Planner!


Click Here to Download the PDF Form!
The Entertainment Worksheet from the Creative Wedding Planner!


Click Here to Download the PDF Form!
The Entertainment Selected Worksheet from the Creative Wedding Planner!


To view PDFs you need Acrobat Reader.
If you do not have Acrobat Reader you can download it FREE if you click here!
Contact International Park about having your Wedding on the Boyer